The Gtech Flood Light is bright enough to illuminate spaces with up to 2,000 lumens of clean white light. When used with the universal 20V battery, it will provide a convenient and safe way to flood large spaces with light. Its cordless technology provides an easy to use lighting solution, especially where a corded light system can be more complicated. Ideal for use in garages, lofts, sheds and other similar spaces.
Compatible with Power Tool 20v Battery & Charger
900 or 2000 Lumen Light Settings
Up to 5 Hours Runtime
100° Swivel Head
20W Power
Free Next Day Delivery
2 Yr Warranty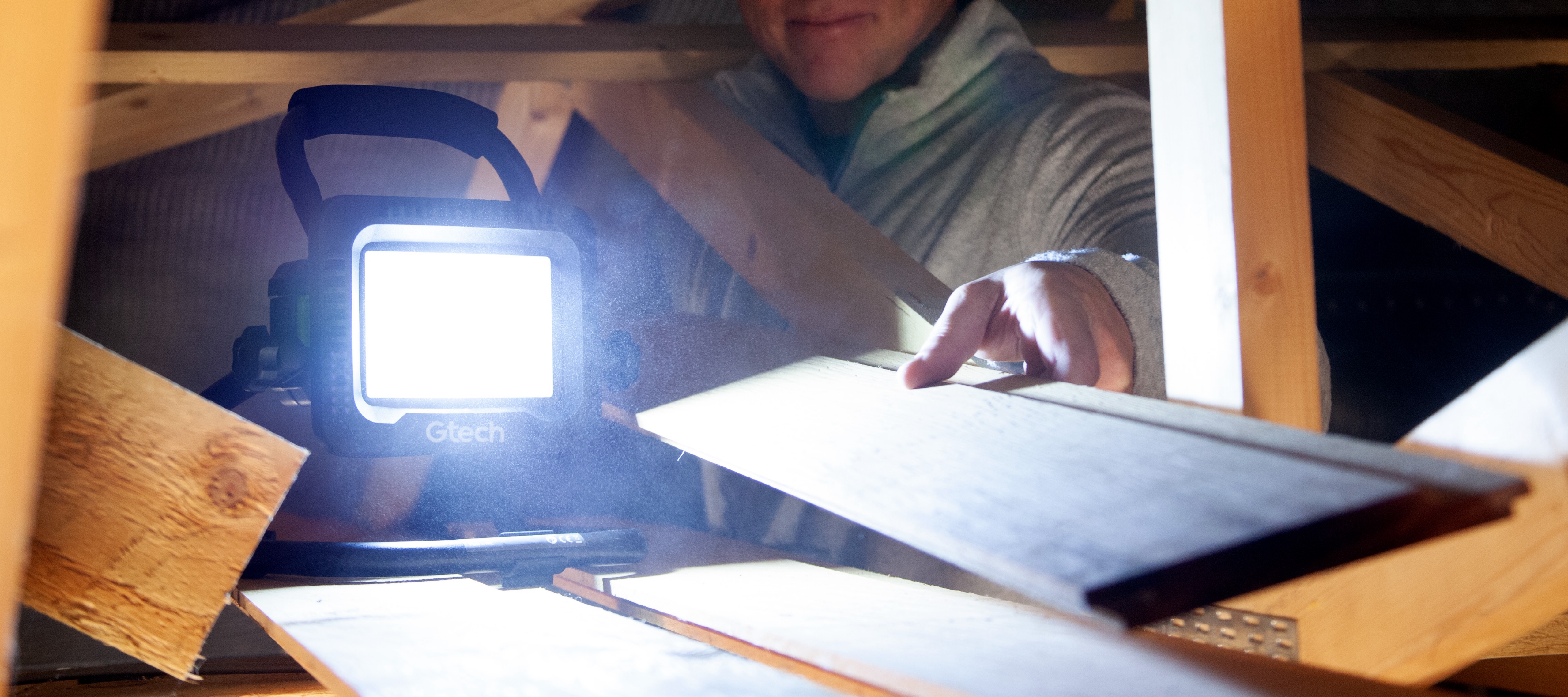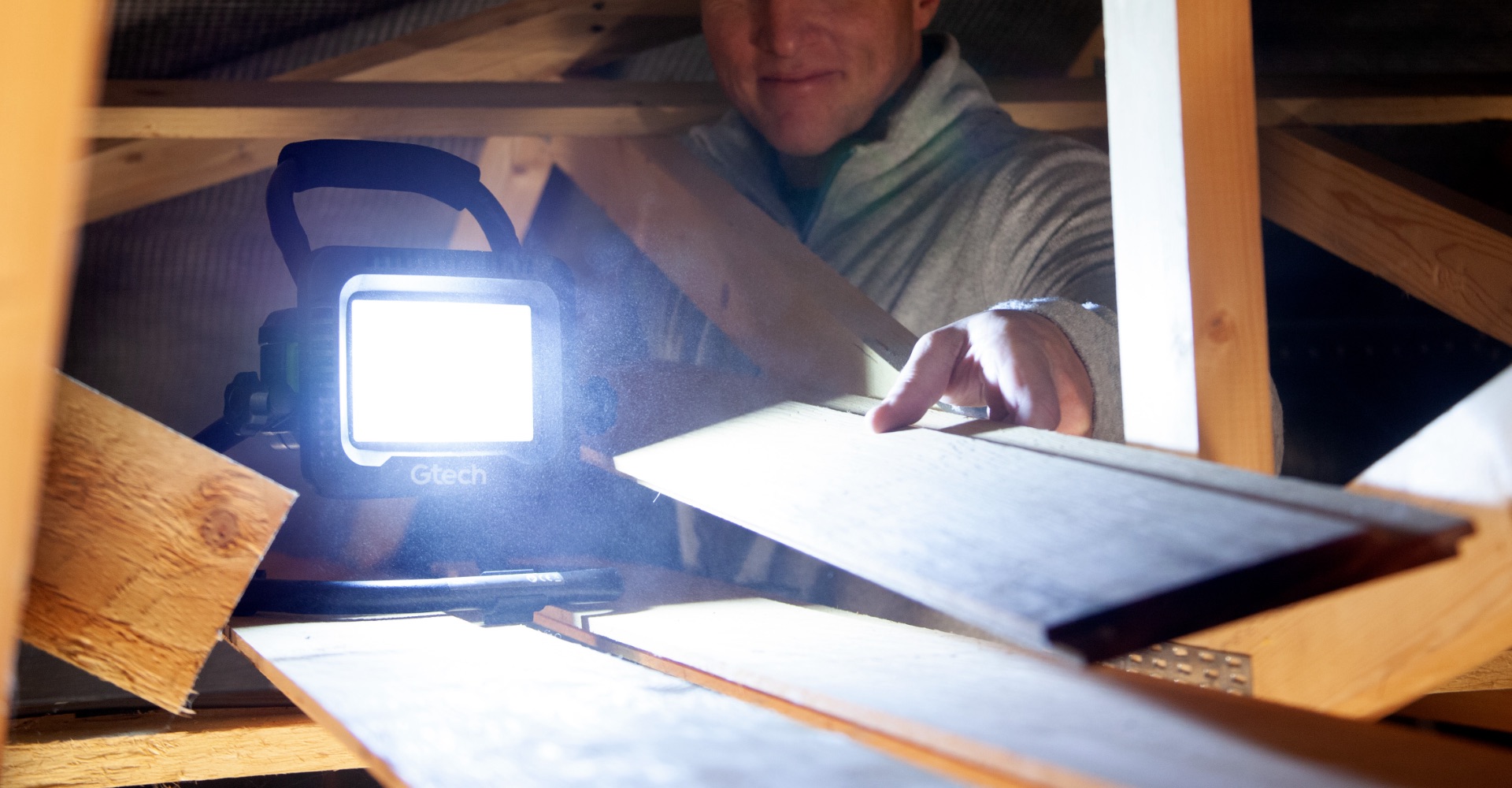 Neat and Tidy
The unit requires no assembly, simply stand the lamp on a stable surface and insert a Universal Gtech battery from the Power Tool range. The battery includes an LED display to let you know how much power is left, so you'll never be unexpectantly left in the dark.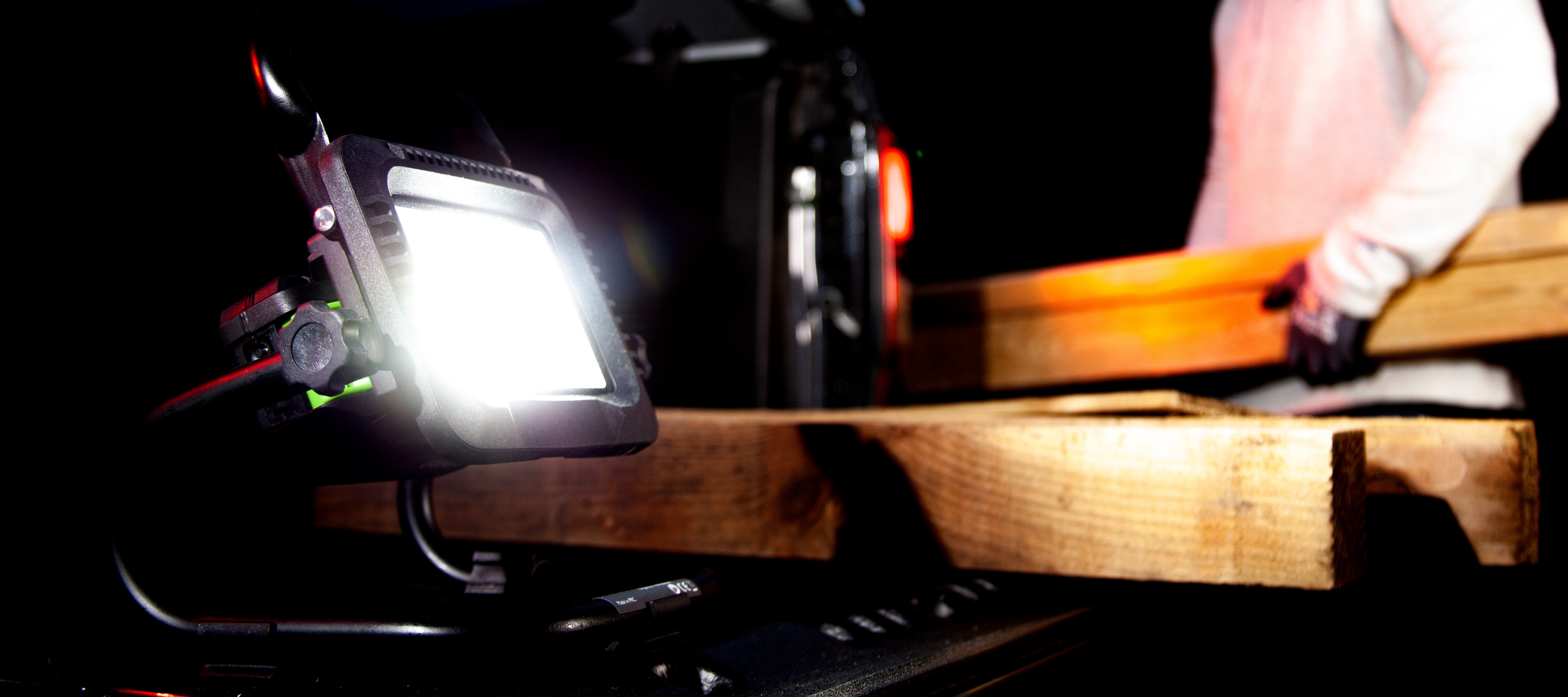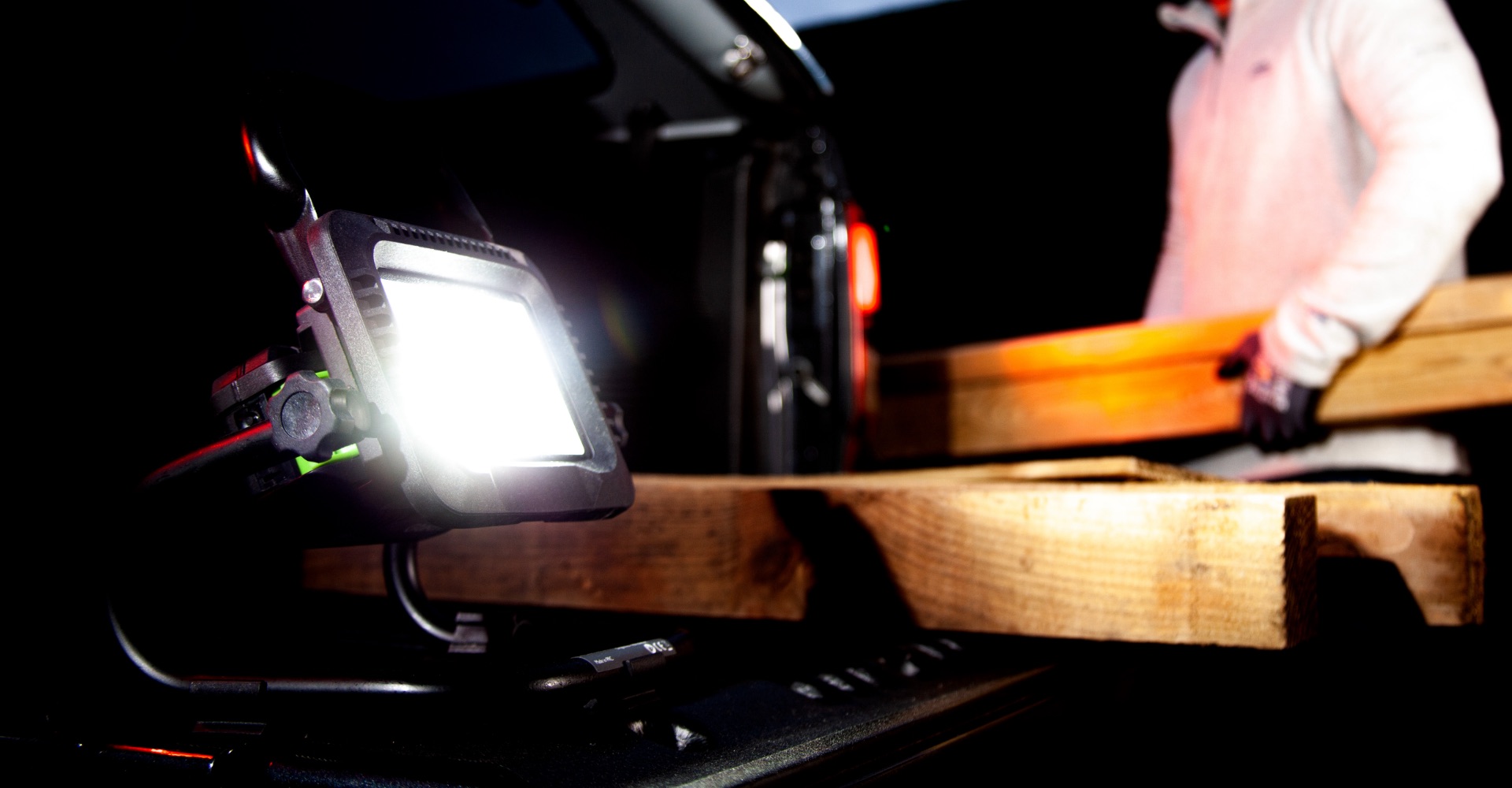 Simple
The Flood Light is designed with simplicity in mind, there is one power switch with two lamp settings. High power mode provides 2,000 lumens of light and power saving mode provides 900 Lumens of light. In the energy efficient power saving mode, the Flood Light can run constantly for up to 5 hours.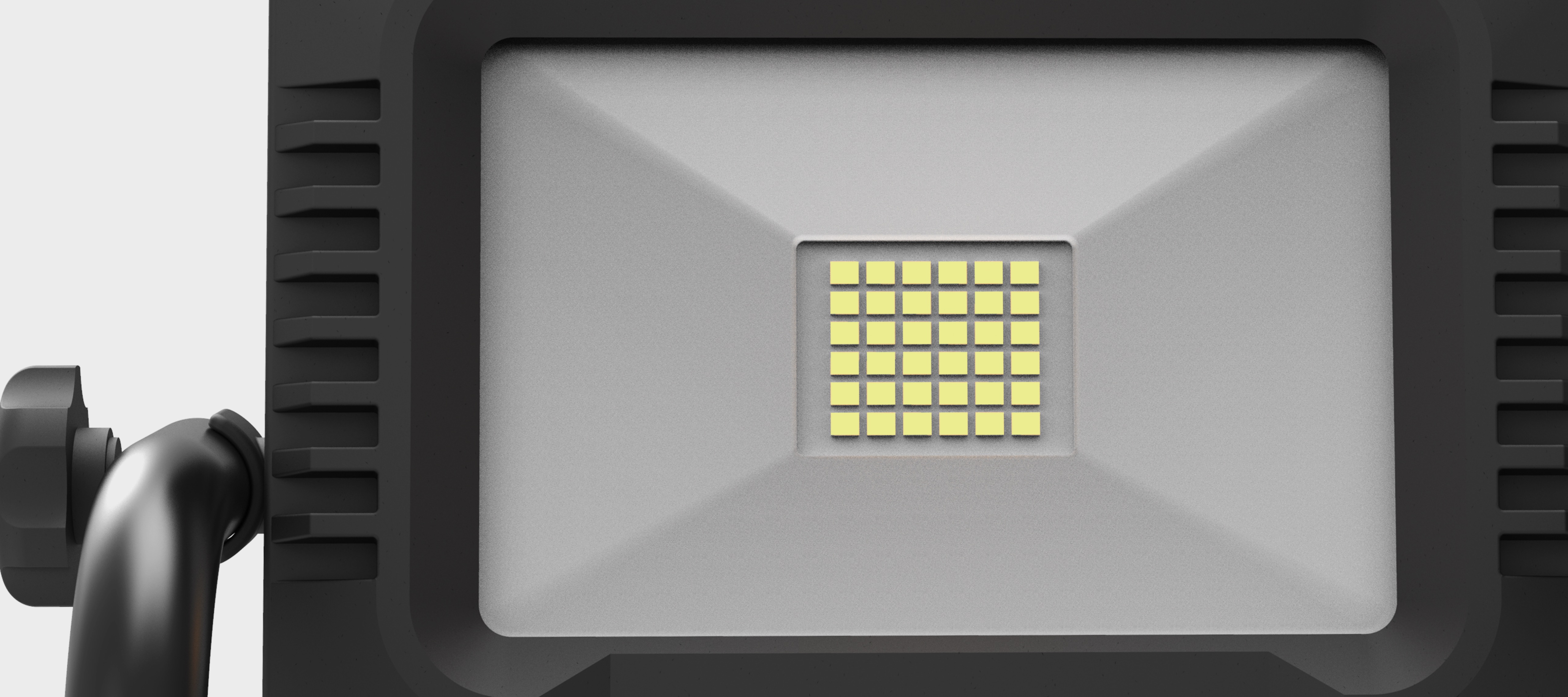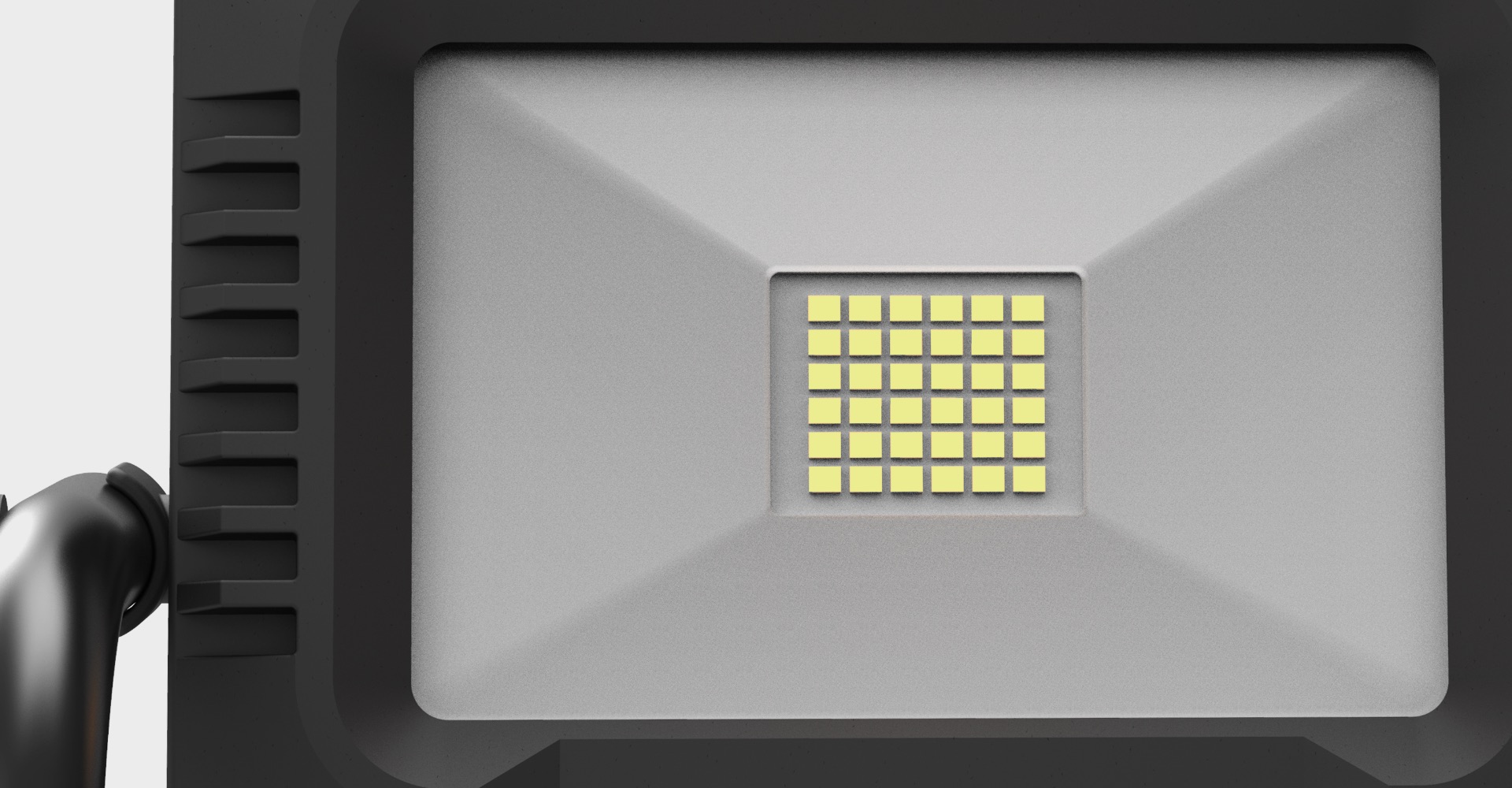 Convenience
This versatile light can be used around your home giving you the freedom to get tasks done at any time. This cord free design provides safe illumination, and with no power cord to worry about you have the freedom to move from room to room.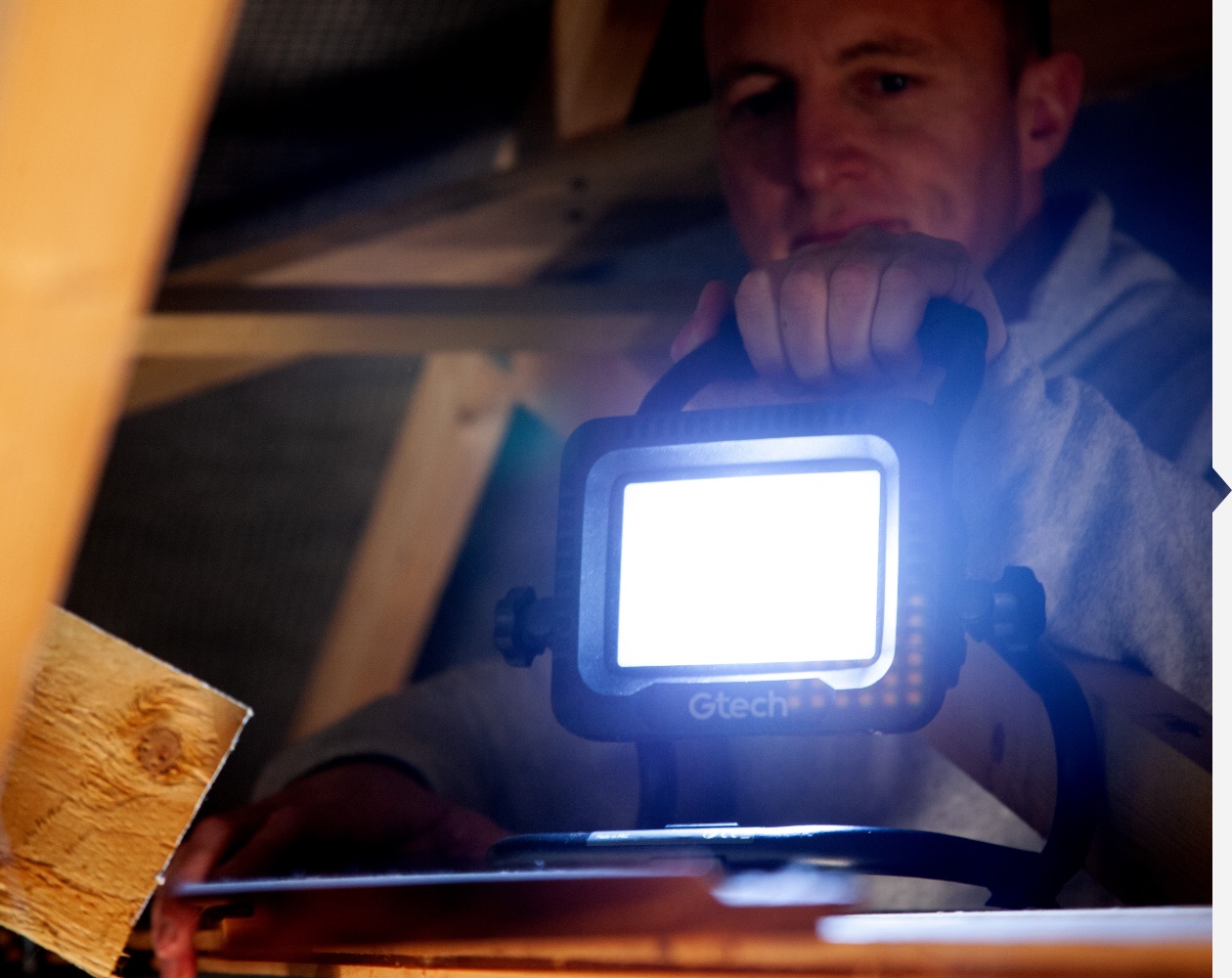 Sturdy
A robust metal frame supports the lamp head which can be carried and tilted using the soft grip handle. The body weighs less than 1kg so it's easy to carry and position as necessary.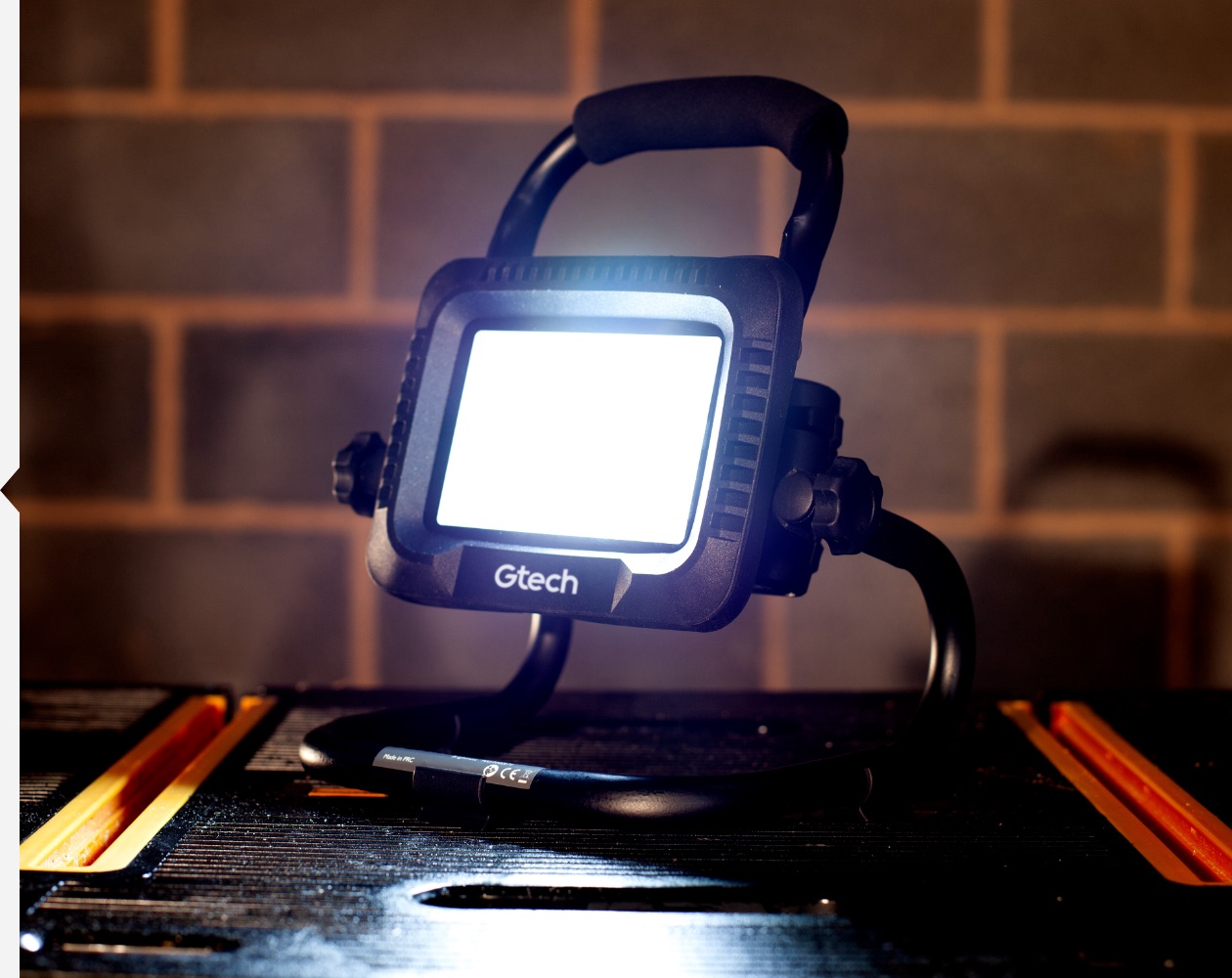 Adjustment
Stand the unit on a stable surface, select the power saving or high-power setting and swivel the lamp head to provide the desired lighting effect. The lamp head can easily be swivelled through 100° to direct the light beam as required.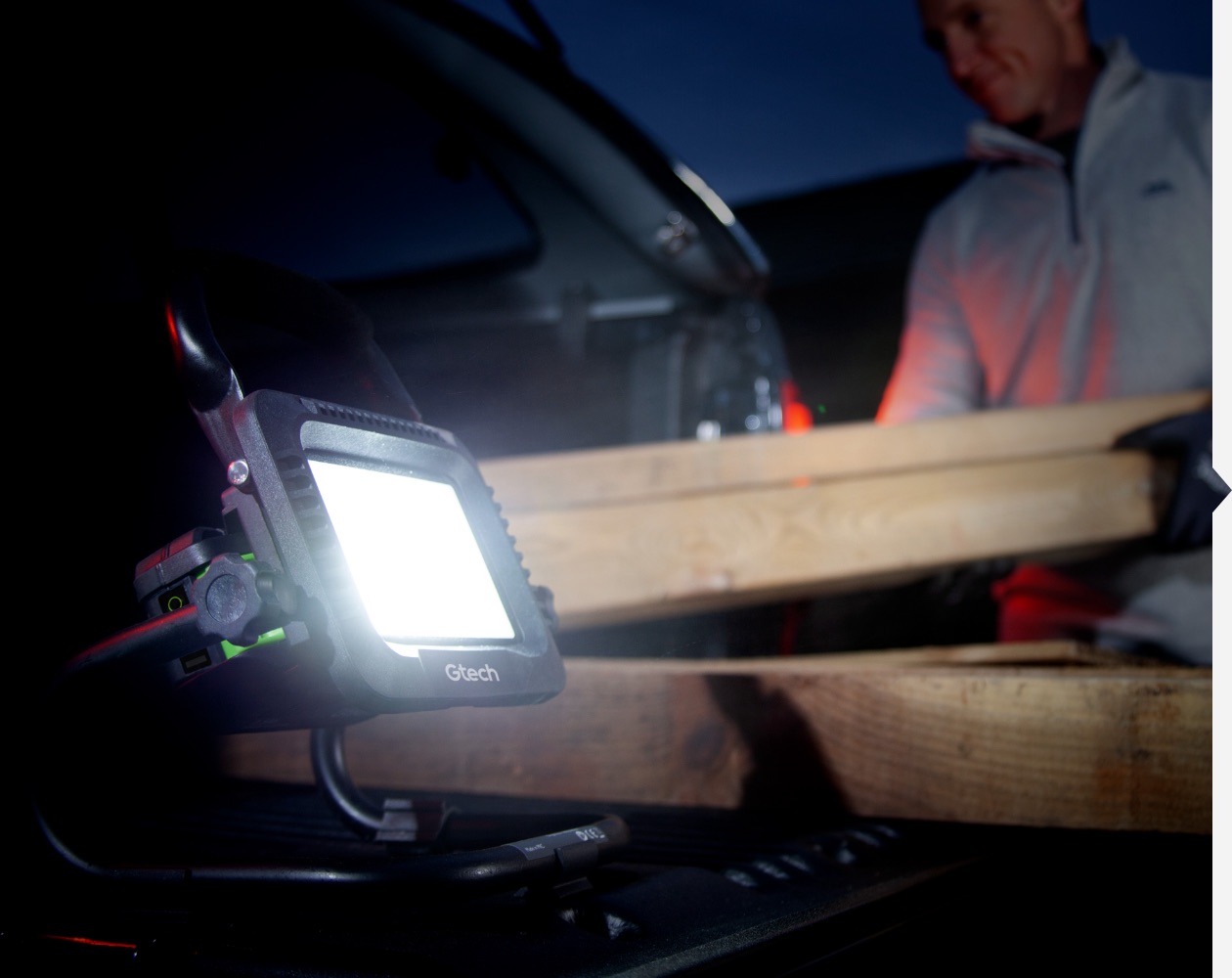 Super bright
The unit has 40 LEDs flush mounted, producing a reliable and powerful body of light. The unit has a power saving and a high-power setting providing 900 or 2,000 lumens output. Enough to flood a large space with bright light.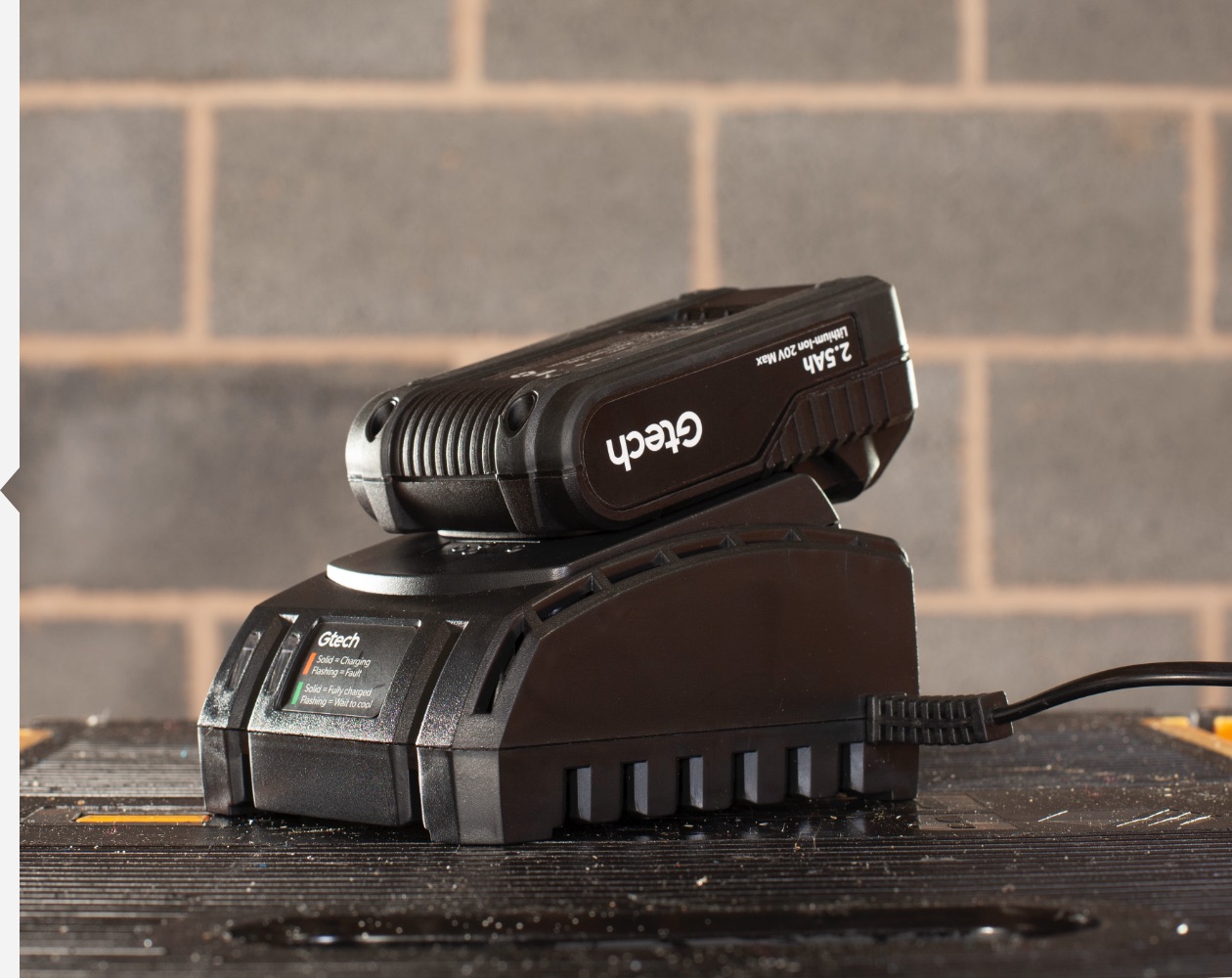 20V Power Tool battery
All of our Gtech power tools use a common 20V battery* and charger so you can build up your collection at a more affordable price. Check out the full Power Tool range here.
| | |
| --- | --- |
| Warranty | 2 Years |
| Cordless | Yes |
| Power Tool Type | Flood Light |
| Model | CF1001 |
| Battery Voltage | 20 V (battery sold separately) |
| Battery Type | Rechargeable Lithium-ion (battery sold separately) |
| Run Time | 2.5-5 hours (battery sold separately) |
| Charging Time | 1 hour (battery sold separately) |
| Power Rating | 20 W (battery sold separately) |
| IP Rating | IP20 |
| Luminous Flux | High Beam 2000 Lm, Low Beam 900Lm |
| Adjustment | Up to 100° swivel |
| Weight | 1.28 kg |
| Product Dimensions | (H)25.5 cm x (W)23cm x (D)18cm |
Deliveries
Free Standard Delivery
Order this product before 7pm and our couriers will attempt next day delivery. Click here for more information on Deliveries.
Returns
This product is covered by a 30 day money back guarantee and 2 year warranty. If you have changed your mind about your product, or have a fault with your product, please contact our Customer Service team. Click here for more information on Warranty & Returns.
Product Support
If your product stops working at anytime, please visit our support area where you can find troubleshooting help including online manuals, FAQs and how-to-videos, as well as genuine spares and replacement parts compatible with your product. Click here for more information on Support Site.
*Runtimes quoted may vary depending on materials and task.
All products ordered from www.gtech.co.uk or by telephone from Gtech are covered by a 30-day money-back guarantee. If you change your mind, we ask that you return the product to us in its original condition in its original packaging with your proof of purchase within 30 days. We will happily either exchange it or give you a full refund. Please note we are happy to arrange the return carriage but we do ask that you cover the cost which incurs a charge of £10. Our 30-day money-back guarantee does not affect your statutory rights.
Limited 2-year manufacturer's guarantee.