The versatile Gtech Pro 2 K9 is designed for those homes with pets that need to withstand tougher cleaning challenges. This cordless stick vacuum provides a convenient cleaning solution, easily transforming from an upright to a handheld, as well as using hygienic dust bags for easier disposal, strengthened components to handle the added strain of pet hair and scented cartridges to keep your home smelling fresh.
Stick & Handheld Vacuum
Powered Brush Head
Low Maintenance, Hygienic Cleaning
LED Lights
Strengthened with Aluminium
Free Next Day Delivery
2 Yr Warranty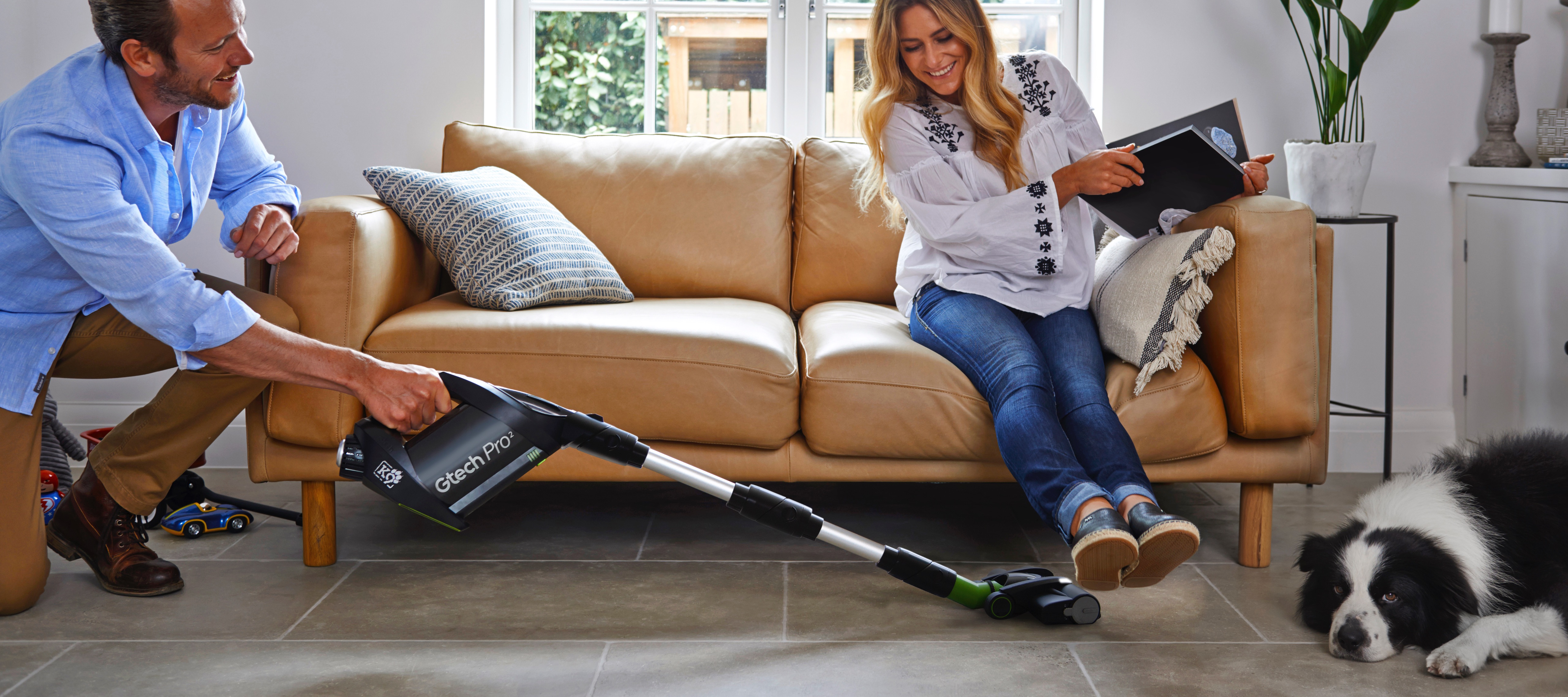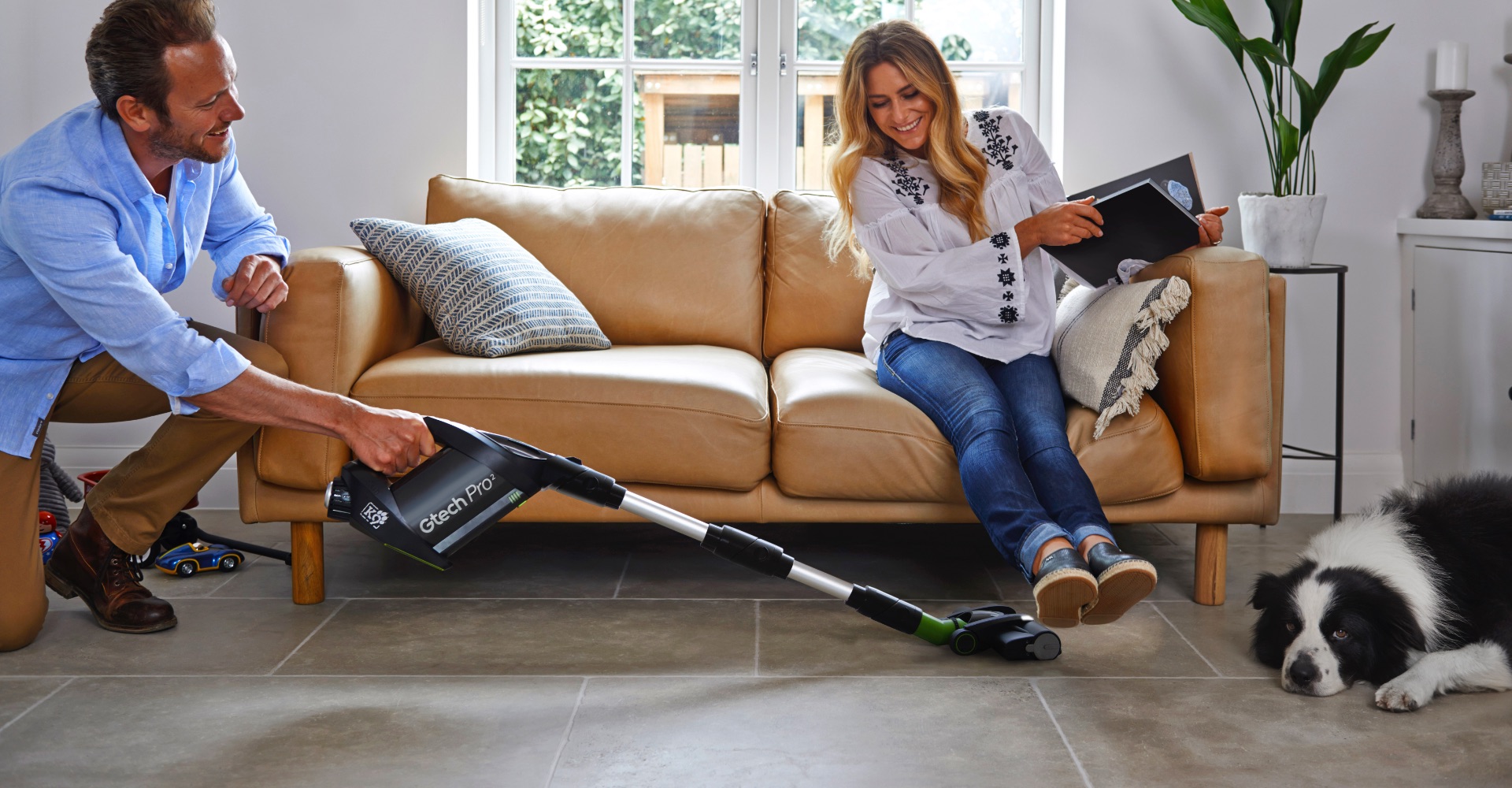 Enhanced Performance
Our lightweight cordless vacuum cleaner puts hygiene first when it comes to cleaning your home, without any compromise on performance. The Pro 2 K9's powered brush head features Gtech's unique AirLOC technologyΔ is designed to pick up larger debris while you vacuum forwards and lifts fine dirt, dust and embedded pet hair on the backstroke. The powered brush bar resists the build-up of hair, keeping your vacuum tangle free ᶧ. By using aluminium components in crucial areas, the robust Pro 2 K9 can withstand the extra strain of daily cleaning schedules, keeping your vacuum going for longer.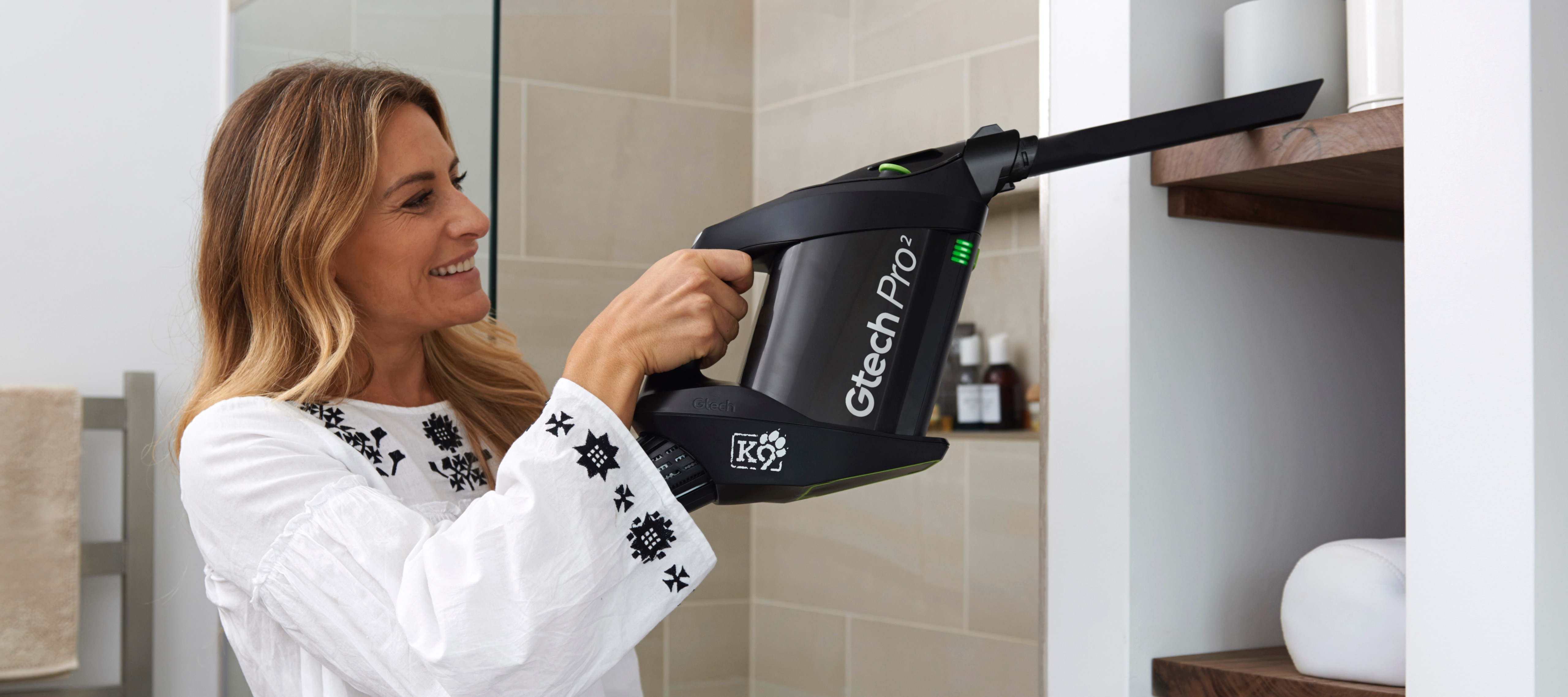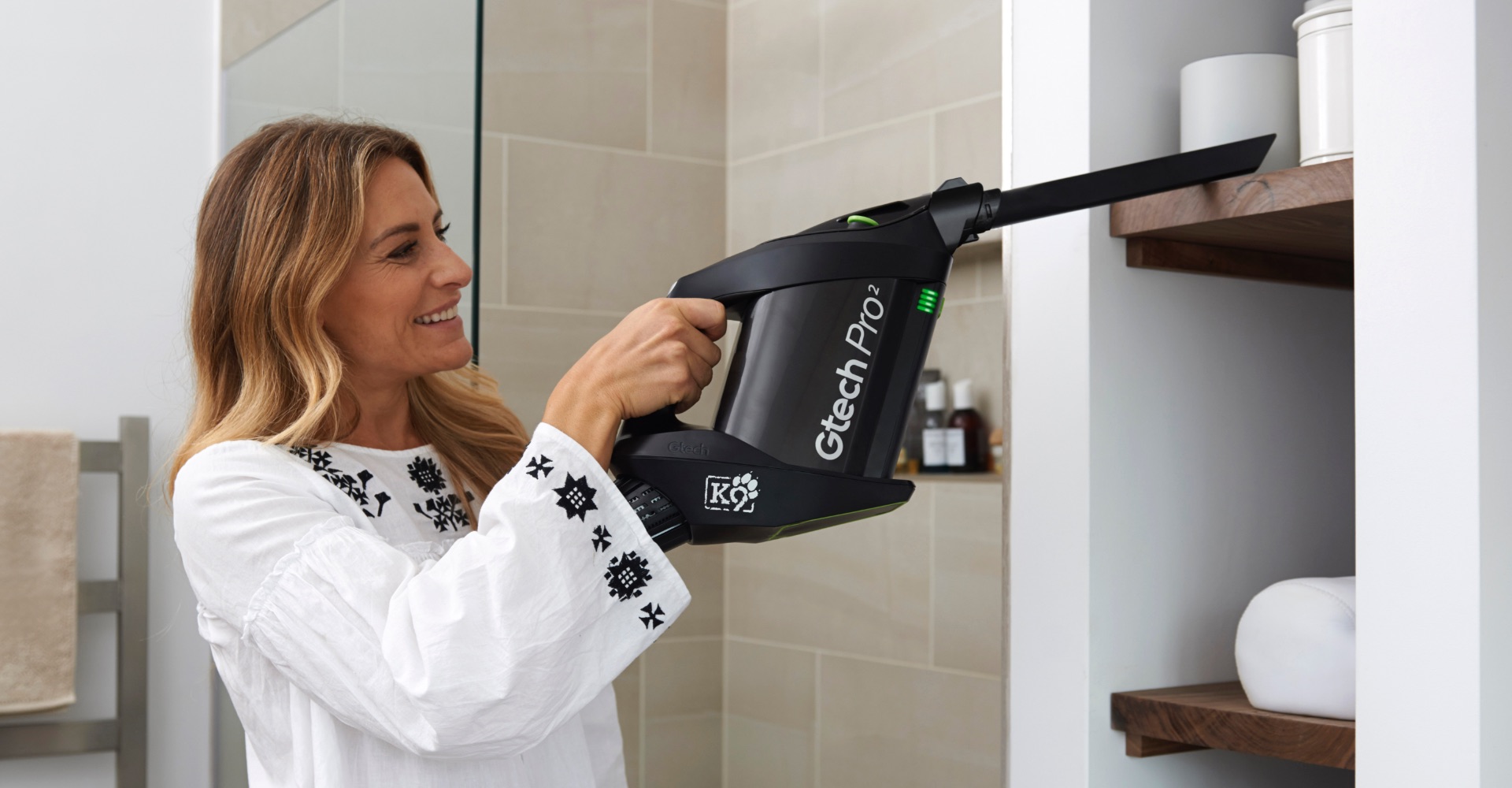 Multitasking Pet Vacuum
This versatile stick vacuum cleaner can be instantly transformed into a handheld for upholstery, stairs and any tricky spots, like skirting boards± and tight corners. By using different configurations of the extension poles, small brush head, power floor head, dusting brush and crevice tool attachments, you can enjoy up to 12 different cleaning options, allowing full reach and manoeuvrability for floor to ceiling cleaning.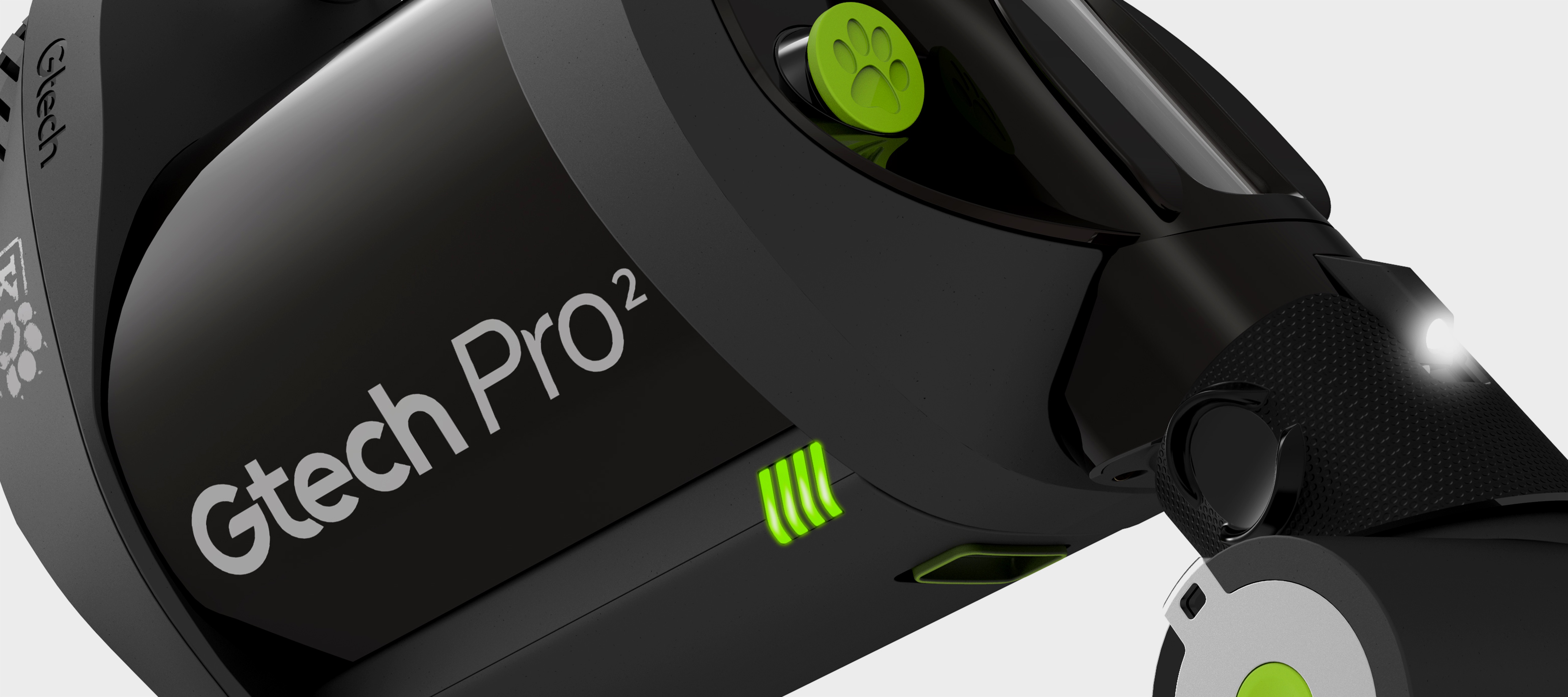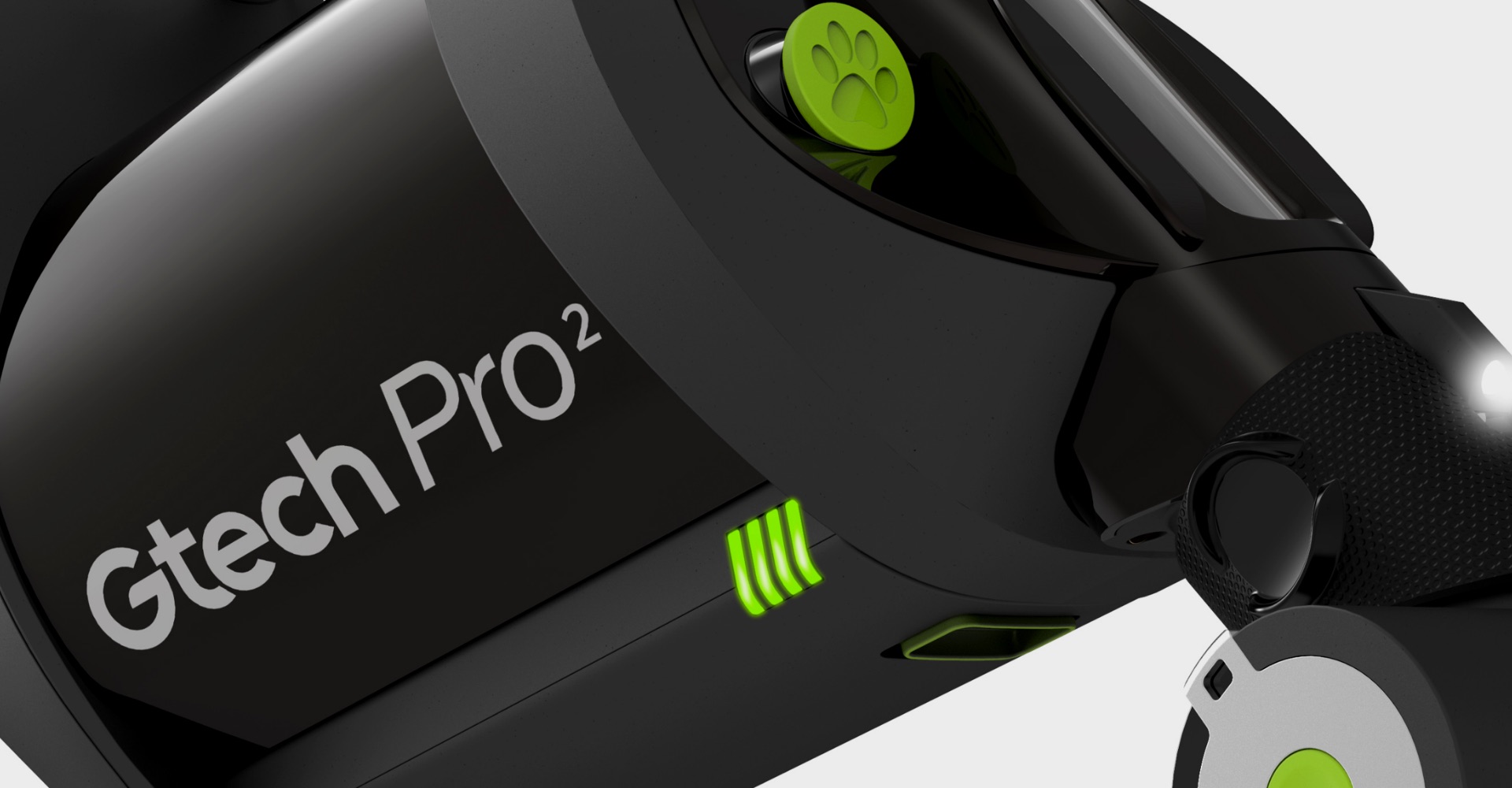 Lightweight Vacuum
Despite making the Pro 2 K9 stick vacuum extra tough, we've kept it lightweight at just 2.8kg** in upright mode and 1.4kg** in handheld mode. Rather than one long extension tube, we've now provided two shorter aluminium extension poles which can be attached to the handheld unit for quick above-the-floor cleaning, reducing strain on your back or arms. With no cord to hold you back, you can move from room to room, or up and down stairs with ease.
Eliminate the dust cloud…
Fused together at the top and sides, our hygienic vacuum bags are robust so they can retain dirt and avoid tearing during disposal, so you avoid the dust cloud when emptying and keep your home dust free.
Enhanced cleaning capacity…
In order for you to get the most use out of each bag, the airflow continually pushes dirt down into the bag as you vacuum. This means each bag can hold more dirt than you might be accustomed to with products of a similar size. The pleats in the bags increase their dust capacity, meaning you can go longer without having to change them. You still get the same performance cleaning versus a bagless vacuum, but they're more efficient because they don't have a cyclone bin that uses additional power.
Triple layered filter bag…
The Pro 2 K9's vacuum bags are made up of three layers, offering convenient cleaning as well as a more hygienic vacuuming experience. The layers of the bags are breathable and filter different grades of dust and debris. This helps the Pro's airflow compress the dirt more efficiently, giving you maximum capacity and durability. Each bag essentially acts as a filter, trapping dirt and dust, so you're getting a fresh clean every time you use a new bag.
How long will the bag last?
The number of bags you'll use depends on how many people live in your home, whether or not you have children and pets and your general cleaning schedule. Homes with pets and children, where cleaning is done 3 times a week, average just 10 bags a year. You will get x4 bags included FREE with your Pro 2 K9, and an extra pack of Pro 2 K9 bags costs just £14.99.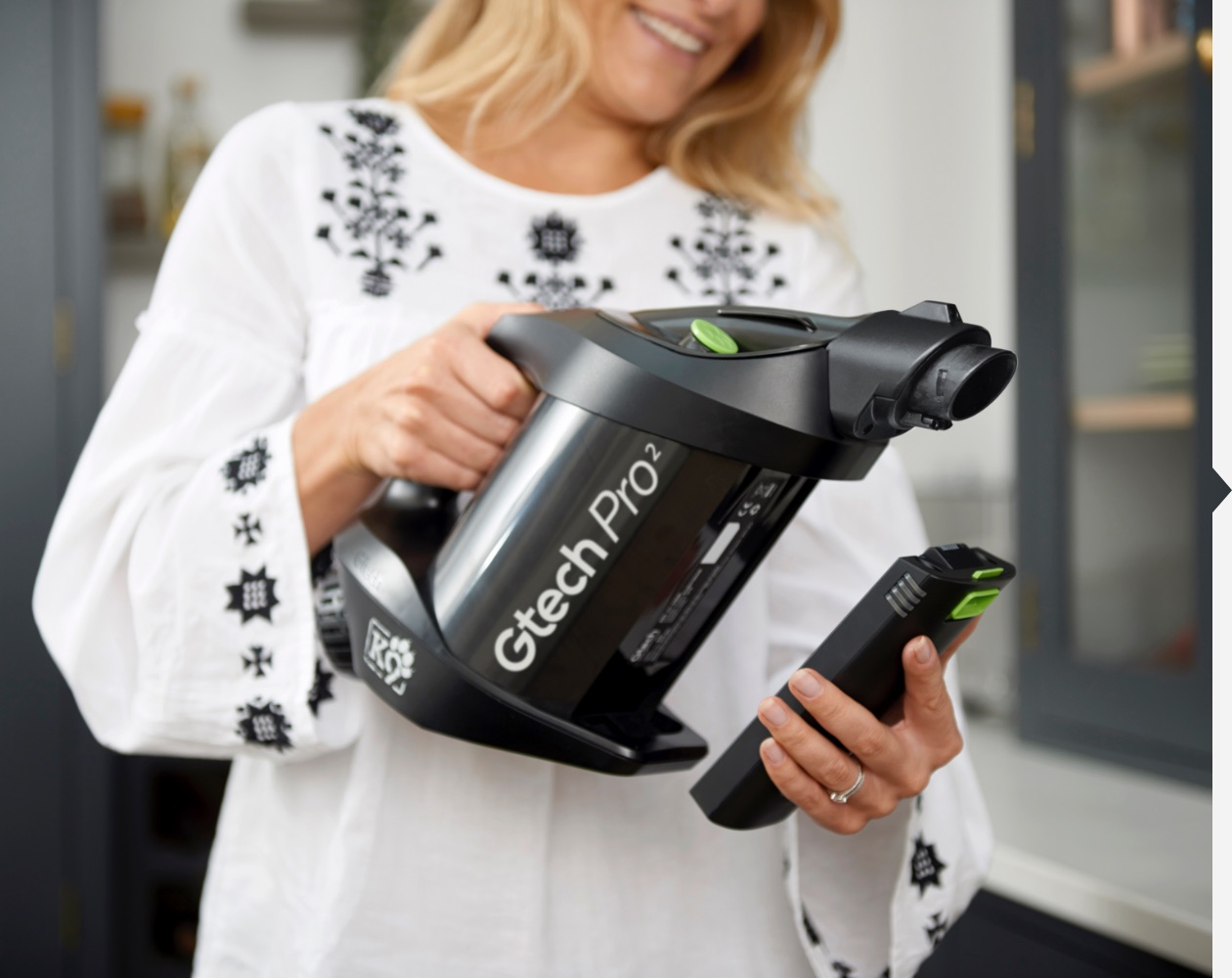 Long runtime
We've powered this cordless vacuum with a 22V Lithium-ion battery, which fully charges in just 4 hours. With 2 power settings to choose from, you're in control of how you clean. Choose our 'Eco' mode for up to 40 minutes of runtime* or ramp it up with 'Max' mode for up to 20 minutes*. There's a 4-stage LED indicator on the battery, showing how much charge is left.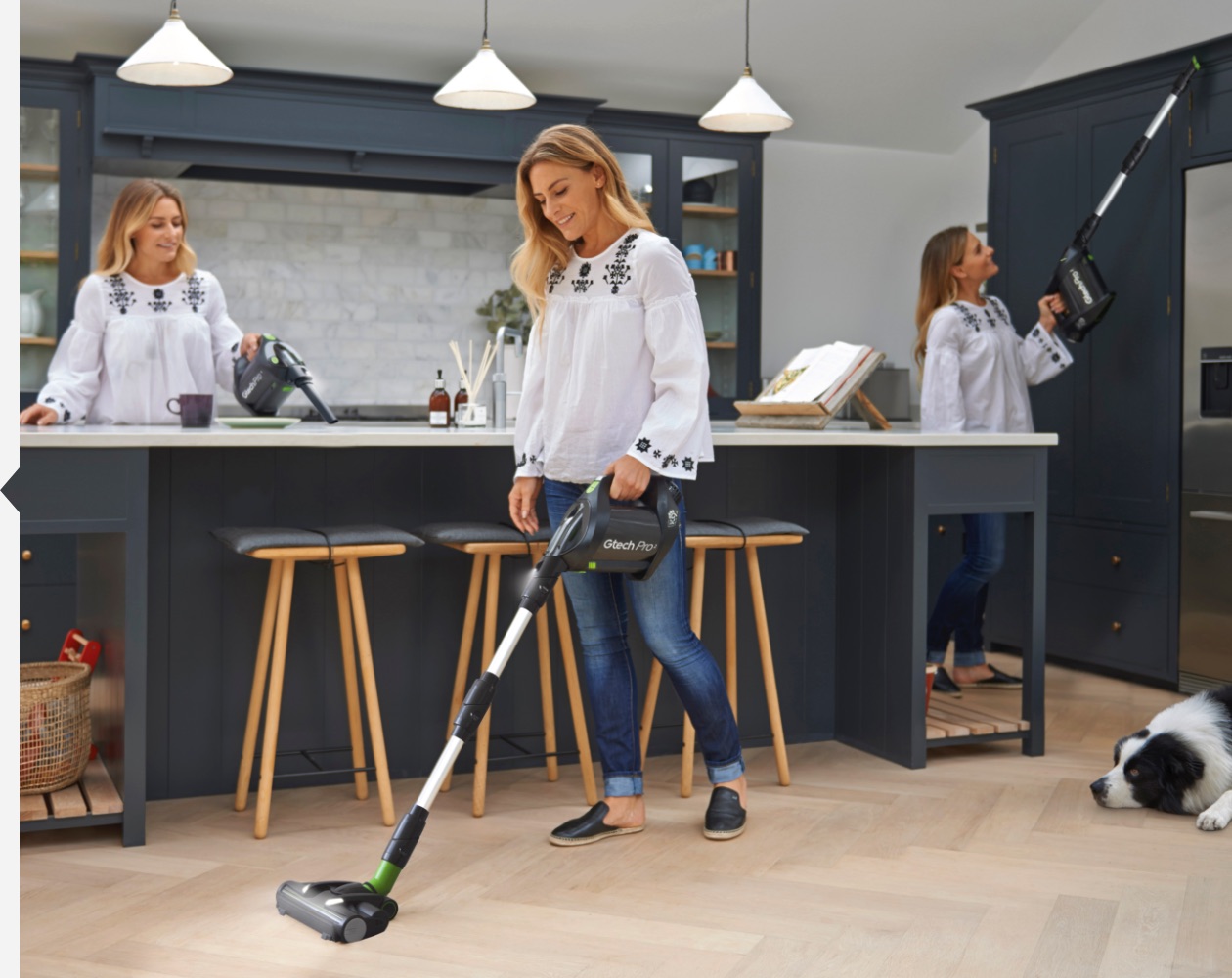 Compact and easy to manoeuvre
This lightweight cordless vacuum offers great manoeuvrability; however you choose to use the attachments. Its ultra low profile handle allows you to clean underneath furniture, with a brush bar designed to give good edge cleaning***. When you're done with cleaning, you can store upright or remove the aluminium poles allows you to store the floor head and handheld separate, perfect for a compact storage solution.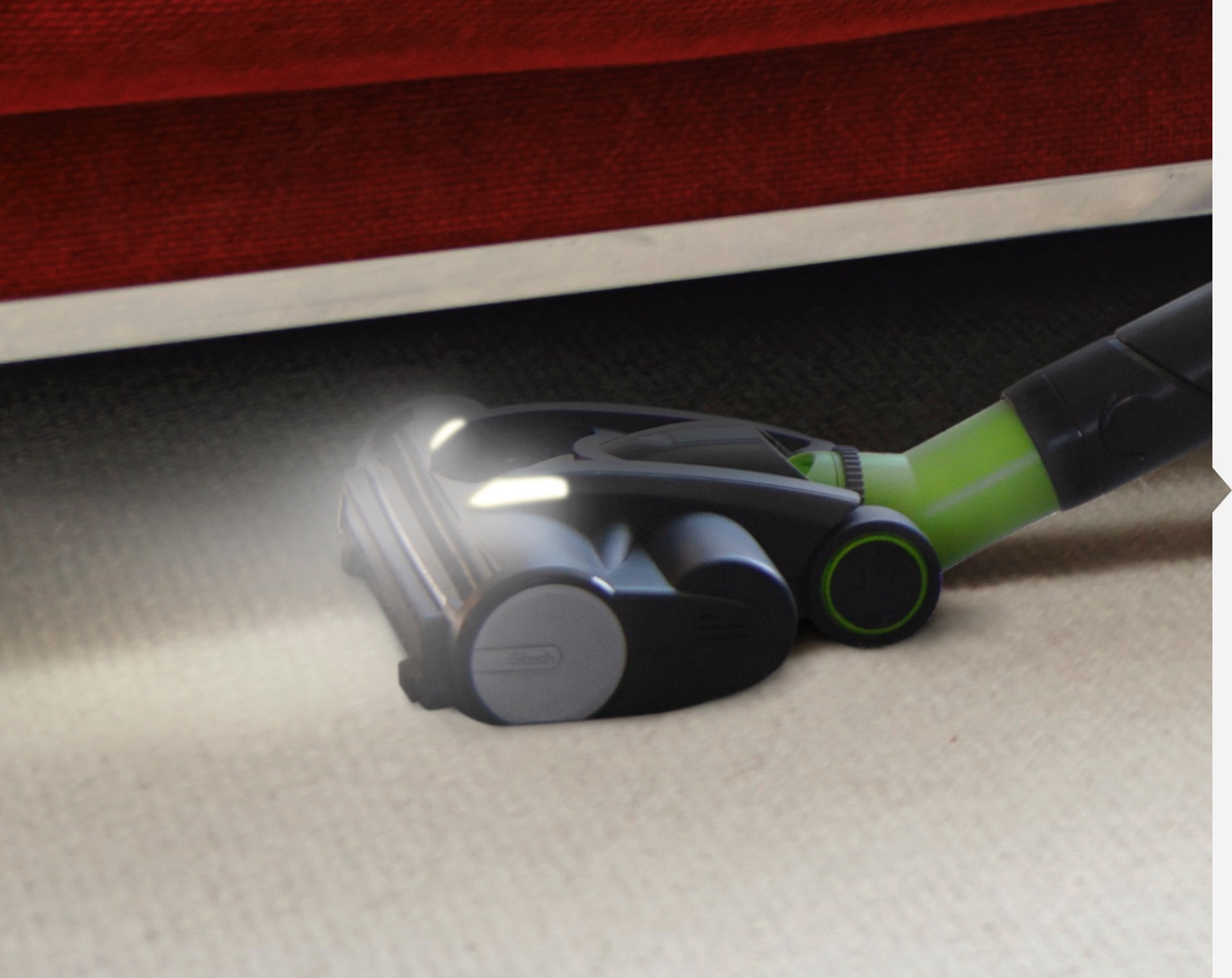 Illuminate the way
Bright LED lights on the front on the powered floor head illuminate your cleaning area, making dirt and dust hiding under furniture or in awkward corners more visible.
Car and caravan cleaning
The Gtech Pro 2 K9 in handheld mode, makes cleaning small spaces like the car or caravan simple, easily reaching into awkward corners with the crevice tool attachment. The small power head lifts pet hair, dirt and dust, while the dusting brush attachment is perfect for delicate areas.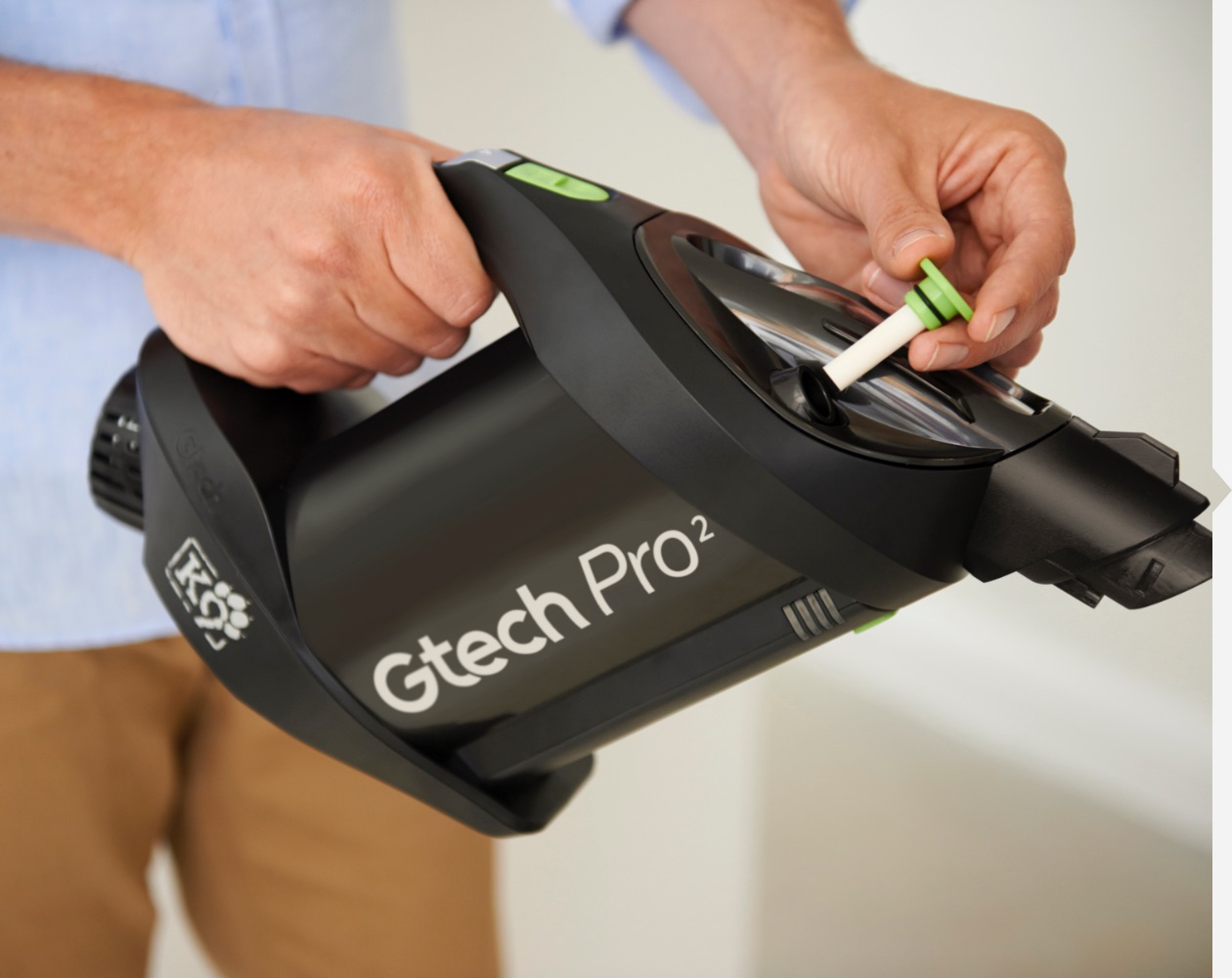 Lightly scented cartridges
The Pro 2 K9 stick vacuum features lightly scented replaceable cartridges that give rooms a burst of fresh fragrance every time you clean and help to get rid of unpleasant odours around your home.
ΔAirLOC technology is patent-pending – WO2017/144922.
±Care is needed when cleaning along skirting boards to avoid scuffing.
*Runtimes quoted may vary depending on surfaces cleaned.
**Weight = 1.5kg when used with nozzle. Weight varies according to the attachment being used.
All products ordered from www.gtech.co.uk or by telephone from Gtech are covered by a 30-day money-back guarantee. If you change your mind, we ask that you return the product to us in its original condition in its original packaging with your proof of purchase within 30 days. We will happily either exchange it or give you a full refund. Please note we are happy to arrange the return carriage but we do ask that you cover the cost which incurs a charge of £10. Our 30-day money-back guarantee does not affect your statutory rights.
Includes 2-year manufacturer's warranty.